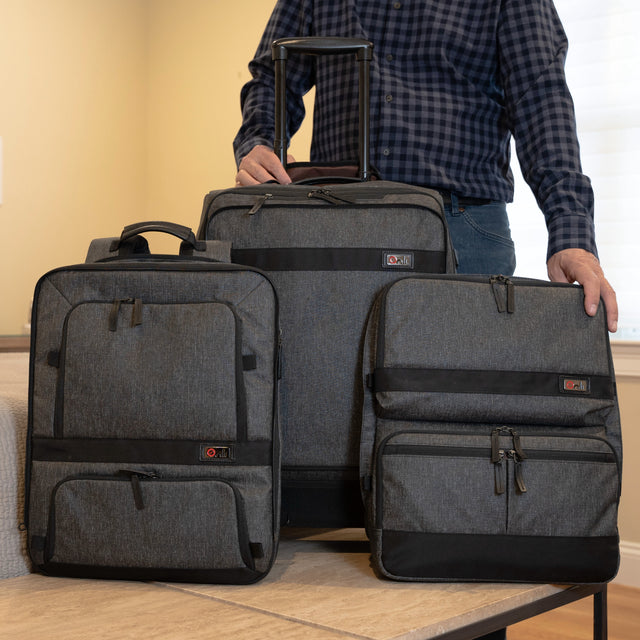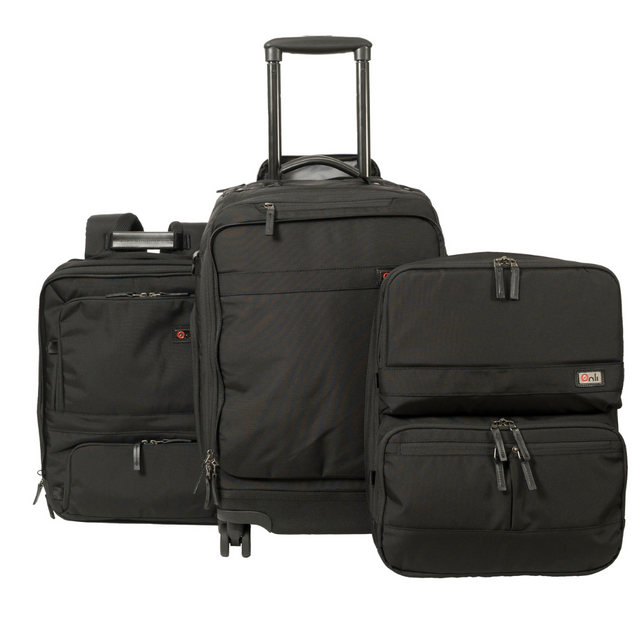 Revolution All-In-One Bundle
Our best deal for more flexible, stress-reduced travel!
Our three-part modular Revolution Rolling Pack…
And a complete set of all 8 packing cubes!
Patented 3-bags-in-1 design: Spinner, Daypack, Messenger/Tote
Expandable, TSA checkpoint-friendly
Product dimensions Here
Unboxing and setup guide Here
Additional product and configuration information Here
 This all-in-one bundle is our best deal… you get our modular, state of the art Revolution™ Rolling Pack, as well as a complete set of our 8 specialized packing cubes. It's everything you need for adaptable, stress-reduced one bag travel, no matter what challenges your journey throws at you. 
The Revolution™ Rolling Pack is the world's first modular 4-wheel spinner. It can also be configured as a backpack. It splits into three bags when needed: an Expandable Spinner with side pockets, an Expandable Daypack that opens like a suitcase and can expand into a weekender bag, and a Messenger Tote Pack that can be worn three different ways (cross-body, shoulder bag, or backpack), and straps to the airplane tray to provide you with an in-flight workstation and more legroom.
 All of this solves a host of travel problems. It makes travel freer, faster, and more flexible, as well as easier and more stress-free. It makes one-bag travel, without ever checking a bag, effortless, and frees you up to enjoy your journey while it handles the surprises travel throws at you. It saves you money on baggage fees, and it helps you avoid time bunched in the jet bridge with other passengers waiting to get their gate-checked bags back. It's your everyday commuting or business backpack, your on-the-go weekender bag, your business travel solution, and your around-the-world companion - all in one!
 The Revolution™ Rolling Pack Expandable Spinner has been thoughtfully designed - it tapers to fit under most airplane seats when needed, but is also expandable when you need it to be. It has two side pockets - handy for umbrellas, water bottles, or jackets while gliding through airports - and a solid base for stability and strength. Handles on all three sides make it quick to grab, and a quick-stash convenience pocket accommodates tickets or receipts. It perfectly fits our Eight cube packing set, making packing a breeze!
 The Messenger Tote Pack has great organization and ergonomics - your stuff naturally finds its place - and it accommodates both a 17" laptop and a tablet. It can be worn as a cross-body messenger bag, a shoulder-tote, or as a backpack. Lockable zippers, RFID shielding, and tough, advanced, water-resistant fabrics provide security. A hidden water bottle holder zips out when you need it, and it can strap to the tray of the airplane seat in front of you, with a zip down shelf for your tablet.
 The Expandable Daypack features an ergonomic, close-to-your-back design when unexpanded, which helps when commuting or maneuvering in crowded conditions. But, it expands - and opens like a suitcase for easy access - into a weekender bag that is ideal on it's own for short trips. A hidden rear cover protects the bag if you check it, and doubles as a carrying sling for yoga mats or sleeping bags when needed. It also accommodates both a 17" laptop and a tablet. And, it can be combined with the Messenger Tote Pack to create a larger Double Pack if you need even more capacity, or the flexibility to split it into two bags during your trip, or if you need to carry 2 computers and 2 tablets.
The full set of packing cubes features a double-sided shirts/pants folder, a clean/dirty socks/underwear cube, a 2X shoe cube, a clear 3-1-1 cube, a cords/chargers cube, a toiletries cube with underneath expansion pocket, a suitor, and a small items cube. They perfectly fit the Revolution™ Rolling Pack, making packing quick and easy.
 Travel as long as you want, in the way that you want, and never check a bag again! This is the Onli bag you need!