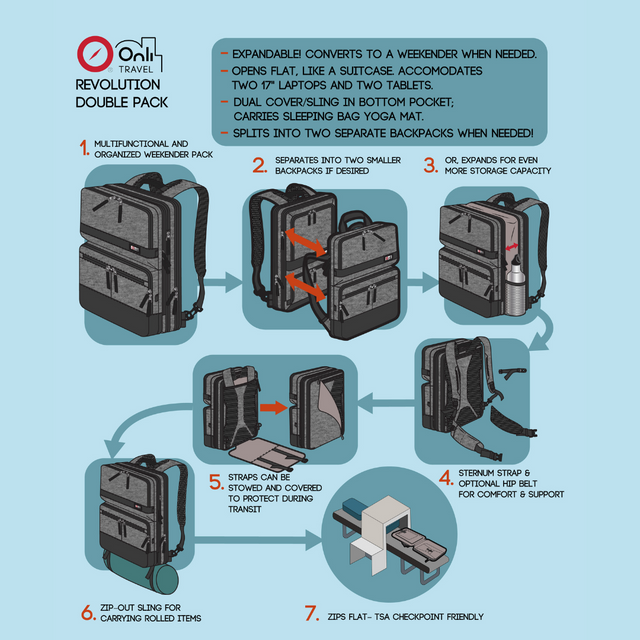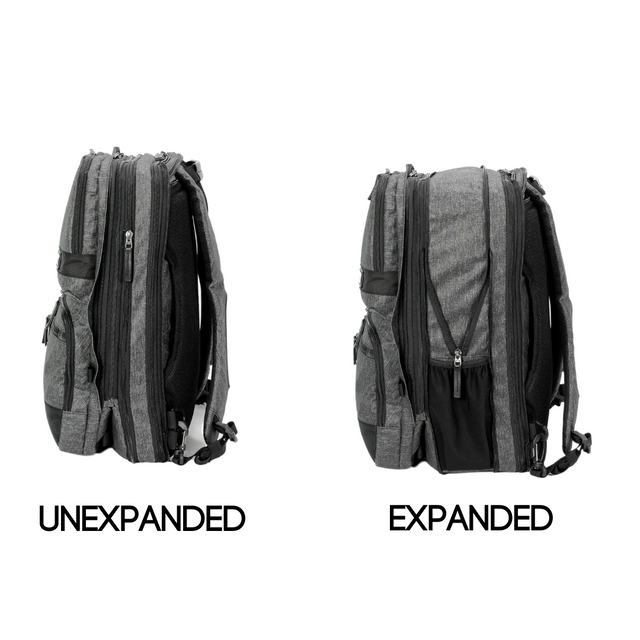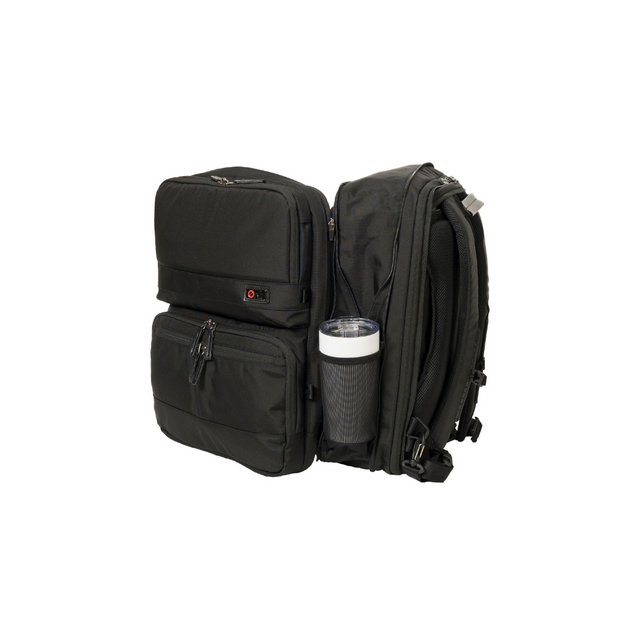 Organized: Optimized for your commute, with quick access to your electronics
Modular: splits into two backpacks when needed; each can carry a 17" laptop and a tablet
Expandable: Becomes your perfect 4-day weekender bag
Advanced: Rain-proof, comfortable, protective, super-durable materials and construction
Minimal: Ergonomic, close-to-your-back design, allowing you to speed through crowds
Optimized for Travel: Zips into a rolling carry-on for one bag travel
Revolution™ Double Pack: This is a world-class every day or commuting backpack with benefits: it's loaded with innovative, value-added features. It's expandable, with over 13 liters of extra space when you need it (think weekend getaway, four-day business trip, workout clothes for after work, or shopping capacity), but a minimalist, close-to-your-back design that works well in crowds, when not expanded. It can handle two 17" laptops and two tablets.
The front of the backpack zips off, creating two smaller/lighter daypacks when needed. The front unit is our Messenger Tote Pack, which can be worn as a backpack, a messenger bag, or a shoulder bag. It also straps to the back of an airplane seat, providing easy access to all of your items during flight, and the top pocket zips open to provide a shelf for your tablet.
The rear unit is our Expandable Daypack, which opens like a suitcase, is expandable into a weekender bag, and has a hidden rear cover underneath that doubles as an under-pack carrying sling for a sleeping bag or yoga mat.
 The handle between the backpack straps makes it easy to grab like a briefcase. The back has vented padding for comfort. The sternum strap is fully removable; use it or not, as you wish. The rear unit is equipped with a TSA checkpoint-friendly laptop/tablet pocket to store up to a 17" computer; the front unit also can handle both a 17" laptop and a tablet. The RFID protected top front pocket has cable access for headphones or a charger cable to connect to electronics inside the bag. The pocket is organized to hold a tablet or iPad, a charger, pens, a cell phone, business cards, a notepad, and other quick access items. The bottom front pocket perfectly holds your charging cables, 3-1-1 cube, umbrella, raincoat, or other items. Two pleated quick-stash pockets hold your train tickets, passport, receipts, or access cards. Multiple water-resistant zippers are lockable. The backpack is made out advanced, durable water-resistant materials. Its unique design, along with it's versatility and durability make this the perfect every day backpack for any occasion.